SILVA SAVAGE AT SISTERS ACADEMY BOARDING SCHOOL
Meet Silva, a poetic animal in excess, a savage-in-the making.
In her suitcase she brings the feet and feathers of a butchered rooster. Around her wrist a bracelet hangs: spiky black plastic picked up on a North Sea beach, a polymere token transported via currents and drifts from fellow birds nesting in the Great Pacific Plastic Gyre.
What will she do for you, this Silva, this medium of the wild?
Silva is a relational intensity, a patchwork geography of words and phrases. Silva is a gathering, plastic organics, a collection of synthetics and ethics. Do you dare eat that Egg?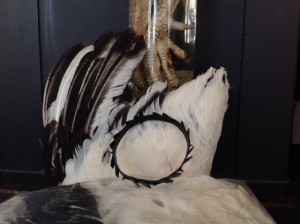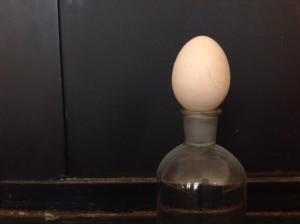 May 8th, 2015. Firy Fern Studio, DK
To Sisters Hope. Letter of motivation: I thank you for this opportunity to further develop my Poetic Self and to explore it as Visiting Researcher at the Sisters Academy Boarding School at Inkonst. The project I would like to work with at the boarding school is an individual project called Animal in Excess, part 1: Meeting Silva, a poetic savage-in-the-making. In Latin Silva is a forest, a gathering of trees. Silva is also a collection of literary pieces or poems; a thesaurus of words or phrases. And Silva is etymologically related to the word savage: from Old French sauvage, and from Late Latin salvāticus, from Latin silvāticus, of the woods, wild, from silva, forest. My project is to engage myself as Silva, a savage and wildly making animal.
"She approaches art as a form of erotic expression connecting sensory richness with primal desire and, in doing so, finds that the meaning of art comes from the intensities and sensations it inspires…"
The cover text from philosopher Elizabeth Grosz's book: chaos, territory, art: deleuze and the framing of the earth, is also a manifesto for the creative metamorphosis that I hope to undergo during my stay at the Sisters Academy Boarding School. I want to challenge myself and see how far I dare go into the wild with my Poetic Savage Silva Self. I want to cross the threshold and fully embody art as a form of erotic expression connecting sensory richness with primal desire. I want to practice wild, sensuous and poetic modes of inquiry and knowledge production. With me I will bring Elizabeth Grosz and her heavyweight transformations of the wilderness of Deleuze, Darwin and Uexküll. And I will bring: Something Animal, a feather fountain pen, a boiled egg, and a journal in which I will monitor the project.
Bio: Connie Svabo, PhD, Associate Professor, Head of Studies in Performance Design, Roskilde University. For a full academic profile and list of publications see: http://rucforsk.ruc.dk/site/person/csvabo, for an incomplete and somewhat random gathering of experimental work see: http://hybridspaces.me
We will present our work and perspectives on sensuous learning and furthermore facilitate the Poetic Self exercise for DUFs work group.
The sound of a star, divine furnaces of the universe, twinkling dots of the night sky. Genesis. Hydrogen and Helium fusing in the furnace, building blocks of the universe, creating coal, nitrogen, oxygen, iron… Creating the building blocks of our surroundings, everything we see, smell, touch, taste, sense. You and…